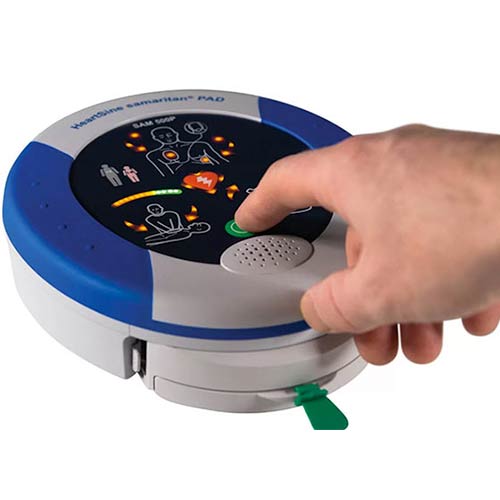 Your Guide to

HeartSine Defibrillators
Here at First Aid Accident & Emergency, we supply a wide range of defibrillators and defibrillator packs. One of the most trusted names we supply is HeartSine Technologies.

The HeartSine defibrillators are available individually or as part of a defibrillator pack, including workplace defibrillator packages.
Our team of first aid experts have put together a simple summary to outline some of the different HeartSine defibrillator products:
HeartSine 360P Defibrillator:

The HeartSine 360P is a fully automatic defibrillator and a popular choice for any workplace or home environment. Because of its fully automatic design, this AED is very easy-to-use and can be used by anyone in an emergency, even those who have never had defibrillator training. This defib provides clear graphics and verbal instructions, guiding the user through the complete resuscitation process.
Great for all kinds of conditions, the Heartsine 360P provides one of the highest weather resistance ratings available, so it's perfect for outdoor use and any kind of workplace environment or sporting club.
HeartSine 500P Defibrillator:

Similar to the HeartSine 360P, this defibrillator is a semi-automatic option. Extremely innovative, the HeartSine 500P provides the rescuer with in-depth feedback on the effectiveness of the CPR they're performing—helping them correct their timing if needed. This AED option is another great choice for all kinds of conditions because it's waterproof and extremely durable—it's even suitable for marine environments and outdoor working environments.
Compact and lightweight, the Heartsine 500P is easily transportable, making it a great option to carry with you to worksites or sporting events.
Defibrillator Packs:

Here at FAAE, we also stock the HeartSine range as part of our workplace defibrillator packs. Many of these packages include a wall cabinet or tough case to store the defib, a CPR wall sign and a free training video. Our packages are specifically designed to suit different industries or environments, for example, construction, corporate, gym/sports clubs and schools.
For more information on the HeartSine range or our variety of defibrillator packs—be sure to contact our team of first aid professionals today. View our full defibrillator range on our online shop.
Purchase a defibrillator at our online shop for your business today!

Click a course to view more information! Or you can contact us.