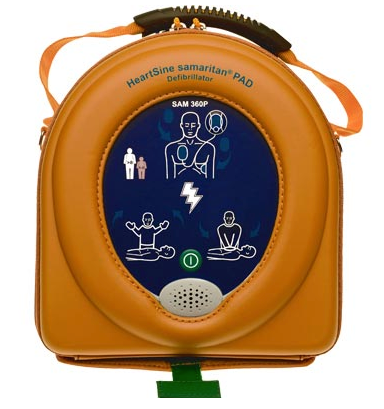 Having a wide range of defibrillators in our store, sometimes it's hard to pick a favourite. It's like telling one of your kids you like them over their siblings. You feel a little guilty, and they all have great qualities but there is just one that consistently stands above the rest…
That's how we feel about the HeartSine samaritan 360P. Popular not just with us, but with our customers; it's consistently ranked as one of the most popular purchases and it's not hard to see why.
THE BRAINS
The Heartsine range is one of the most technologically advanced on the market. One of its key features is the CPR Coaching and Metronome. This basically means if you haven't received much training or are unsure what to do, you simply turn it on and it gives you instructions. Being fully automatic, you don't have to press a button to administer a shock – the defib does that for you. It will tell you how often and how deep to compress, when to breathe and when to stand clear.
THE BODY
For the punch that it packs, the 360P is incredibly lightweight – just over 1kg. The clear and easy to read display is an advantage in high-pressure situations and its easy to differentiate between child and adult mode. The defib comes with adult pads as standard (child electrode pads cane be bought additionally here).
THE BRAWN
For all its pretty lights and lightweight design, this defib can take a hell of a beating. It has the highest IP rating in the market (environmental durability rating). You can take a high pressured hose and blast the 360P with it for 3 minutes straight and it would have no effect on the performance of the unit. This makes the 360P the perfect defib for any outdoor use e.g. marine, surf life saving, sporting clubs etc. 
THE BANG FOR YOUR BUCK
The 360P comes with an 8-year warranty and a 4-year shelf life for the electrode pads and battery, which is a great low ongoing cost for the unit. And in an age where the biggest factor in stopping businesses from purchasing defibs is the cost, we think it's pretty hard to argue with!
The HeartSine samaratin 360P Automatic Defibrillator is available now online for $1,869.00. If you wanted to go the whole shebang and get even more value, it also comes in a handy package that combines an alarmed wall cabinet, signage, training resources, a first response kit and free delivery for $1,999.00.